HL has moved from a closet sized room to a shiny new office inside the Bloomberg news offices. I came to Harlemlive to get a better understanding of the world and how people think.

HarlemLive's first day of moving into Bloomberg was a change for the best. We went around the Bloomberg complex and networked ourselves. It was fun to be around all of the tech people and journalists. By doing this, we were able to see inside the world of a journalist and the world of a technician. When I joined HarlemLive two years ago, I didn't know anything about computers or technology having just moved from Jamaica. The experience has done a lot for me so far, teaching me about photography, web sites and the Internet. Now, after never having done so before, I'm beginning to write.

Harlemlive students are gaining experience by learning how today's journalist wor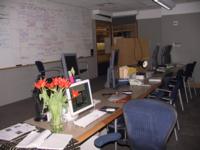 ks in a professional environment. Aside from watching other professionals, we're being honed as young professionals ourselves by producing websites for other organizations. We are flourishing on the social scene as we meet new people and recruit new staff. We are continuing to take advantage of our talents by taking pictures, going out to scout stories, web producing, and creating amazing story material. This is a fresh and new environment; so I'd say being at Bloomberg is a good thing for Harlemlive. HarlemLive's dream has finally come true now that we have our own place; we now have the freedom to express ourselves in anyway we desire.

As w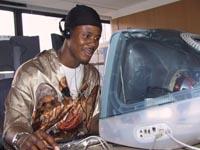 e go along, Harlemlive is becoming an even stronger organization and I'm becoming a better person than before. We are building to be as good of an organization as possible -- with that ambition comes the need to take advantage of all of the resources we have . We want to work with the best, and so it's only natural that we've chosen to work with Bloomberg.The best is only yet to come.