Hey Everyone!
Here's a little letter to those interested in joining the HarlemLive staff! On Sunday, June 2nd, editors Danya Steele, Justin Young, Jason Taylor, Clinfton Taylor, and a few other HL staff members headed down to Central Park to participate in the annual "Teen Volunteer Fair," an event juxtaposed with celebrity appearances, prizes, and information on a variety of benefial organizations. We recruited a bunch of great prospects from this event; however if you missed us, it's still not too late!
HarlemLIVE, in case you haven't noticed is an online magazine created, edited, and produced by NYC TEENS and abroad. We are journalists, photographers, web designers, videographers, editors, public speakers, and just all around a group of ambitious, creative, and energetic young people who look to make an IMPACT on the scene of contemporary media.
What Makes HL Different?
As most of you have already been told, HarlemLIVE is different from other "youth organizations" in that we are actually a YOUTH ORGANIZATION, meaning FUELED and MANAGED by the YOUTH!!! Most other youth orgs are actually run by adults when you pay attention; the teens are merely pawns in a chess game. They don't manage, control, or completely produce -- anything. That is the very opposite here at HarlemLive. The utter creative freedom you have to express yourself in any way positively imaginable is wonderful. But then again, I suppose you'd have to come in yourself to see.

Can I Get Community Service Hours? Paid?
Yes, you can. During the summer, our staff gets paid through SYEP (Summer Youth Employment Program) and during the school year, you get community service hours, so no matter what time of year it is, you're always benefiting from something substantial. Besides this, the contacts, experience, and freedom of creative expression are just extraordinary. You'll barely even notice you're volunteering!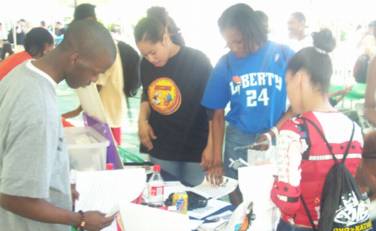 So When Do I Start?
This upcoming Monday, June 3rd, we'll be holding our monthly staff meeting for the month of June. We hold these meetings every first Monday of a new month, and if you're interested in joining, come on down! It would be fantastic chance for you to come by and meet the staff, get acquainted, get a feel of the place, etc. If you can't make it to this staff meeting, we'll be holding an orientation on Saturday, June 8th @ 5pm. Please email us back to let us know which one you can make!
Cya Soon!
Editors

**********
HL Address:
301 W. 125th st. & 8th Ave.
3rd Floor
New York, NY 10026

Transportation:
Trains: 2,3,A,B,C,D,1,9 to 125th...
Buses: M60, 100, 101 & BX15