| | | |
| --- | --- | --- |
| | | |

Sean Connery, George Lazenby, Timothy Dalton, Roger Moore…any of these names ring a bell? Of course they do. They were some of the smoothest, slickest, womanizing, ass-kicking kats of their time. Continuing on that legacy is Pierce Brosnan, now on his 4th of the twenty 007 films. This next installment is Die Another Day, produced by Michael G. Wilson and Barbara Broccoli continuing this family tradition that was founded by Albert R. "Cubby" Broccoli. He began the series 40 years ago with the sexy crooner (at the time) Sean Connery in Dr. No; based on the thrilling spy novel series by Ian Fleming.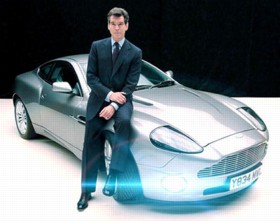 The movie begins with a highly explosive scene, which doesn't burn out till the roll of the credits. Bond (Brosnan), framed as a traitor, is now classified as useless to his organization and they decide to hold him in contempt. In an easy escape led by Judi Dench, his mission now is to find the traitor and prevent a war between North and South Korea. Gustav Graves (Toby Stephens) and his right hand man Zao (Rick Yune) seems to be two steps ahead of Bond's every move. Graves invents a high-tech new weapon in which he plans to destroy Bond's administration with and run things over in Korea. Will Bond be able to "save the world" again or is he cutting it too close?
On this dangerous adventure he also runs into two females, Jinx (Halle Berry) and Miranda Frost (Rosamund Pike) and these are two "Bond girls" that don't play no games. There were a few twists and things to throw you off, as well as several fights to get you hyped and although pretty short, the usual steamy sex scene. Come on, we're talking bout Halle Berry here. All in all, I found Die Another Day to be a good movie, not to mention the hot theme song performed by Madonna who pops up for a fencing scene linking her video to the movie. I definitely give my two thumbs up; five stars and whatever else there is…just see the movie. Even if this doesn't really seem like your cup of tea…trust me you'll like it, cuz he's…
"Bond, James Bond." .

| | | |
| --- | --- | --- |
| | | |