As a diehard Yankee fan, I will try to be as unbiased as possible. However, the problem isn't my devotion to the Yankees; the problem is Al Leiter's arm could fall off before I finish this column. WellÉok, so maybe his arm will stay in correlation with his body, but at his age, what good will it do?

The Mets Starting rotation consists of Al Leiter, Pedro Astacio, Shawn Estes, Jeff D'Amico, Bruce Chen, and Steve Trachsel. Most likely the pitching rotation will end up in that order, as well. Unless Steve Phillips trades a Chen or a Trachsel, plan on seeing five of these guys starting, and one in the bullpen. Barring injury, Leiter, Astacio, and Estes should make up the first three spots on the rotation. The 4th and 5th spot are still undecided because no one has pitched exceptionally well.

D'Amico left his last start after 4 pitches with a flexor tendon strain in his right wrist. D'Amico is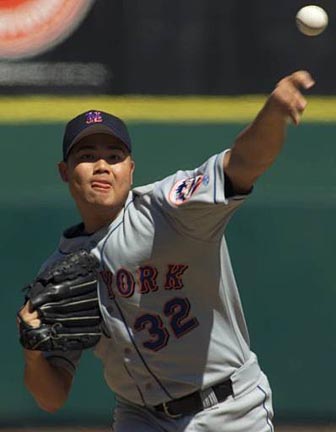 1-1 for the Mets during this pre-season. Pedro "I'm Hurt" Astacio is also 1-1 with a 5.40 ERA (Earned Run Average). Bruce Chen and Steve Trachsel are both 0-1 with an ERA over 5. Clearly, this pitching staff has questions they need to address. Injuries are a problem for every player. But with Pedro Astacio, and Jeff D'Amico, two pitchers that are prone to injury, pitching is a serious issue for the Mets. Age is also a problem when your rotation depends on Al Leiter, 36 turning on 37. He can only pitch well for so long.

The Yankees on the other hand, have one of the best rotations in the league, once again. With consistent, proven winners like Roger "Rocket" Clemens, Andy Pettite, Mike Mussina, Sterling Hitchcock, David Wells and Orlando "El Duque" Hernandez, the Yankees should be set.

The "Rocket" is coming off a 20-3 season where he had over 200 strikeouts and only 72 walks. Andy Pettitte was 19-9 with a 4.35 ERA. He was a little shaky, but with 19 wins, he showed he is still a dominant pitcher. Mike Mussina was simply dominant. He had a misleading 17-11 with a 3.15 ERA, the third best ERA in the American League. Mussina came one pitch away from pitching a perfect game against division rival Boston Red Sox. The only flaw in the games Mussina has pitched in, is his team's offense. Mussina got the least run support amongst his teammates and could have easily won 20 games. Hernandez was 4-7 in a season riddled with arm and foot injuries, although he did pitch well in the postseason. If anything, that might have left a lasting impression with management and may very well be the reason why he's still on this team. In terms of newcomers, Hitchcock and Wells are additions that could prove to be helpful. Hitchcock pitched 3 games for the Yanks, posting a 2-1 record with a 3-1 strikeout-to-walk ratio. Wells is 38 years old and had a horrible season with the White Sox. Complaining about back pains, Wells had surgery and now is with the team he wants to be on until he retires.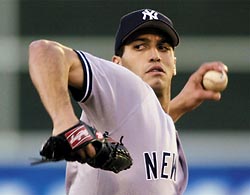 Every team has their question marks when it comes to pitching. Pitchers are very fragile creatures. Arm, shoulder, back injuries, galore! The Mets and Yankees, like every other team, have concerns of their own. However, the Mets have bigger problems with injuries and a simple lack of pitching talent. The Yankees can expect similar numbers from their top three starters and even if Hitchcock and Wells don't pitch well, they should be fine. The Mets, on the other hand, may be in for an unpleasant surprise.