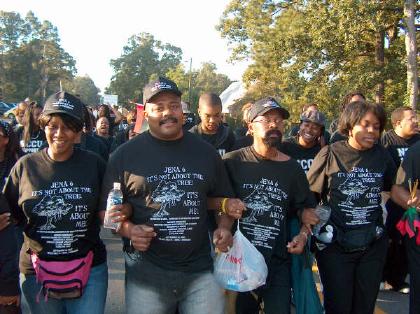 On Thursday, September 20, 2007, I decided to take my freedoms seriously. Enduring the smoldering temperatures, police interference, and--despite what they might show you on CNN--the unwelcome response from the residences of Jena, LA.
I was one of 50 students from North Carolina Central University who braved the 1,000 mi and 15-hour overnight trip to attend the protest. We passed the time watching pro-black films--Pride, Coach Carter, and Spike Lee's School Daze--thinking of chants to recite at the march and bracing ourselves for the unknown. Excitement and anxiousness overtaking emotions, yet a subtle nervousness lingered. Our group was head by a University Professors and former civil rights enthusiasts who recalled old war stories of hostile and violent opposition. They warned to be ready for anything--spitting, shouting insults, bottles and rocks being hurled at demonstrators, even police violence. This is a recollection of that Thursday...
1:30 AM - It didn't take long to witness the two certainties we were sure to encounter on this trip. The first was the overwhelming support of thousands of protestors, for what was projected to be greatest demonstrations since the Million Man March. Once we drove south of Atlanta, there was nothing but buses on the highway. Standing outside of a random truck stop at a Mississippi Welcome Center, our bus was one of ten who stopped for a moment. Of the ten, eight states across the mid-Atlantic and as far North as Harlem and Philadelphia were represented. It was like the scene of a family reunion, 500 people stretching their legs outside for a moment before continuing the drive, all in black shirts in white letters conveying the message "Free the Jena Six" in more or less words; groups of Postal Workers, college students, NAACP Chapters, and Church Groups. This was the first indication of how momentous this experience would be.
4:05 AM - The second encounter that we were sure to face was an official un welcome. While searching for an open gas station to fill up before driving into Louisiana--demonstrators were instructed not to purchase anything in the state. Driving down a country highway, move gas stations were invaded by patrol cars, turned into makeshift police check points. Any buses that happened to stop were searched, and any "weapons" found--a writing pin, a toothpick, an iron comb, etc--would enable police to deny buses entry into the state. There was one gas station that was open. The gas attendant, dressed in hunting fatigues and a rifle decided not to unlock the women's bathroom. It was only when a neighboring bus from Pennsylvania carrying some forty white Christian seminary students offered to pay the attendant $100 did the attendant open the one-toilet bathroom.
5:45 AM - Welcome to Jena . Authorities flagged down the bus in downtown Jena, hurrying us off the bus, redirecting the driver to park off the main road. Over head the only light was coming from the beacons on two low flying helicopters circling the vicinity. Our orders were to assemble at the Ward 10 Recreational Park at 7 AM to join the rally led by Rev. Jesse Jackson and Al Sharpton, then to proceed marching from the park to the courthouse at nine a.m. to begin the protest at 11. Officers were giving conflicting reports, likely to disorganize the rally, discouraging people from walking to the park, directing us to a vacant courthouse lawn. We joined a group of 75 from Charleston, SC, link up arm-in-arm--so that we weren't deterred--and began the mile and a half hike to the park.
On the way, we passed houses sealed off with police issued red tape at their exact property lines. Authorities stated that if anyone steps on private property, they would be apprehended for truancy. Jena residences, black and white, were perched on their front lawns and porches, some with rifles and camcorders in-hand, watching the spectacle unfold. Police stood watching, some smiling, clearly amused by our presence. A car slowed to greet us during the trek; relatives of Mychel Bell slowed to say some kind words of appreciation and encouragement.
7:03 AM - Ward 10 Park was a half mile off the main road through dense woods, lined with rundown houses, all guarded by red tape. An old farm house had a "No Trespassing" sign on display with a layman's rendering of a big-eyed, big-nosed, big-lipped man. It's clear that not all of Jena's residences are amused by our presence. The sound of crowds cheering, through the trees, led the way to the park entrance. We arrived just as Rev. Jesse Jackson was rushed to a trailer, by his private security detail, members of the Nation of Islam all sporting bowties.
7:45 AM - Rather than waiting on the assembly to organize, our group united with Grambling State University, Howard University, and Hampton University decidedly to lead our own march to the courthouse lawn three miles east. All of the men were instructed to link in arms around the band of marchers, forming a protective barrier for the ladies. The troupe of three hundred began marching, reciting our angry chants all the while.
8:55 AM - At this hour, the streets were overcome by an army of protesters who have taken over the street. There were now five helicopters looking from above. The original three hundred had grown into thousands behind us, a sea of black shirts; cameramen trailing closely in front of the throng, capturing everything. At last, we were just a block from the courthouse, media trailers everywhere, cameras and reporters from every major network looking on.
9:30 - Due to an 11 th -hour overturning of Mychel Bell's charges given that he was prosecuted unlawfully as an adult, the rally proceeded abruptly. Speakers for the New Black Panther Party, National Action Network, Rainbow Coalition, and the Nation of Islam graced to the podium to rally the masses. As the speakers led the rally in chants and speeches, a contingent of officers stood behind, guarding the courthouse entrance in the face of over 20,000.
Mid-speech, the Black Panther spokeswoman attacked the police presence, a bold insult which ended in a soundless podium, provoking the mob into an angry uproar. Courthouse authorities swiftly elected the one black officer to approach the podium and offer an apology.
11:00 AM - Succeeding the insightful words of Rev. Jackson, we took to the streets of Jena, marching in and down neighborhoods; gatherings at Jena High School. E very street was jammed, sidewalk to sidewalk, with freedom riders making their presence known.
1:30 PM - As fatigued crowds searched for their buses, the police subtly and cleverly decided to misdirect protestors, insinuating that buses were on opposite sides of town. We spent hours in walking around obliviously searching for our bus.
By the day's end, history was made. The call for protest had been answered, by many who had traveled great distances, some as far as Canada, to make a statement with their presence, against injustice. Yet, there were doubts of the affect the demonstration would bring for the Jena 6.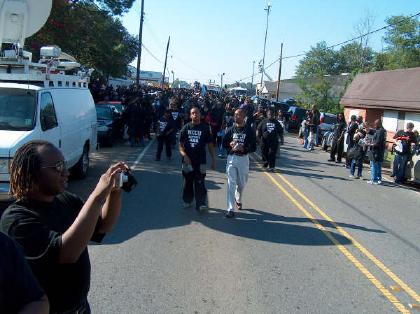 In the aftermath of the march on Jena, LA, during a late afternoon meeting on Wednesday, September 26, 2007, Louisiana Governor Kathleen Blanco met with Rev. Al Sharpton and Martin Luther King, III. Governor Blanco expressed her concern, a public gesture of support for the Jena Six, urging District Attorney Reed Walters not to appeal Mychel Bell's overturned conviction. The next day, September 27, Mychel Bell was granted $45,000 bail and released. Supporters raised over $60,000 for the legal defense fund for the Jena 6.
Though Mychel Bell was released, the fight is far from over. White supremacy groups released the home phone numbers of the Jena 6, inciting a flood of death threats and threatening calls. Mychel Bell is currently under house arrest awaiting the start of his trial. The fight is not over...