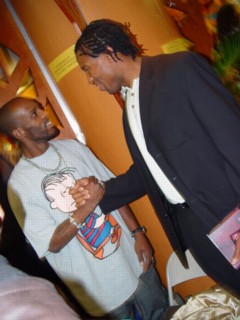 The first time I heard Yonkers, New York wordsmith, DMX was on his debut Def Jam single, "Get At Me Dog." I automatically realized that I was listening to a star in the making. Then I saw the accompanying video and I was amazed by the energy that could be generated by one person. Everyone in the video seemed to be feeding off the intensity let off by the dark man. From that point, I promised myself that I would follow X's career as long as he held a mic.

His debut album was "It's Dark and Hell Is Hot." To this day because of tracks such as "Stop Being Greedy", the famous "Ruff Ryders Anthem" and of course the radio-friendly, "How's It Going Down" featuring Bad Boy's First Lady Faith Evans, gave the album a truly exciting roller coaster fell. Because of these and other characteristics, I would in one word describe his debut as a classic. Apparently about four million people agree making it a certified classic. While most artists take time to relax and bask in the glow, Earl Simmons (his government) dropped his second album in one year. The follow-up LP titled, "Flesh of My Flesh Blood of My Blood" also proceeded to go multi-platinum pushing over 100,000 units in its first week. Since 1998, "X" has gone at least platinum on each of his four releases.
I recently caught up with the Yonkers native at the Hue-man bookstore located on 125th Street and 8th Avenue in Harlem, New York. Being a journalist, I wanted to get the first shot of the MC as soon as possible. So along with fans lining the block I waited both patiently and eagerly in somewhat chilly November weather. I wasn't sure what to expect. No sooner than I asked where he was did "Mr. X" pull his black SUV up to the curb. Upon stepping out of the vehicle X was greeted by members of his entourage that included security, friends, his wife (Boo Boo, as she is called by "X") and son. As he made his way to the store, I said, "Wassup X" and in humble fashion, he replied, "What's good baby" as we exchanged the hood infamous pound.

Inside the store was swarming with media, autobiography holders, his wife and son and of course well-wishers, fans and bodyguards. After "X" signed his final of about thirty to forty autographs Kelechi (another HarlemLive reporter) and I were allowed to introduce us to the now unoccupied star. Up close "X" was about six feet tall. He was decked out in grey jeans, boots and a grey shirt that displayed Peanuts character Linus holding his trusty blue blanket. His wrist was sparkling with a platinum "Double R" bracelet. To compliment it, was a matching chain given to all Ruff Ryder artist and many of its prominent staff and in his ear an earring with a diamond in it. All in all, this demeanor spoke of someone with confidence in himself without the cockiness "X" also showed he was down-to-earth enough to know his limits as an average person blessed with the gift to touch millions with words alone.
After introducing ourselves we were led into the room with his personal security towards the back exit area where we were granted a seven-minute interview. I started off by asking him what made him choose rap as a career his answer was with and to the point: "I didn't make it a career."

However, it was made clear to us that Scarface and Nasir Jones aka Nas Escobar are the two artists he feels are doing something positive for rap. Towards the end, I thought it be in my best interest to ask him to explain how he felt rappers as a whole could use his modest attitude as a blueprint towards making positive things happen in hip-hop as far as stopping the lyrical beefs and attempt to bring more positive energy and publicity to the game of rap. He simply replied, "they should, nah mean, but their heads too big. So I just try to do me." The answers that I found the most interesting were when Kelechi asked how has his belief in god influenced his music and when I asked what he was going to do after his final LP dropped. To which he replied, "I'm going to focus on my label, I'm doing another book and I'm also going to be doing some more moves. My belief in God has made me focus on not being so quick to say F%@k you or brag about how quick I can finish a ni@@a on the mic. " By the end of the interview while many of my questions answered I was still left wondering if "X" was releasing his last album or if despite his overwhelming success would he pull a page out of Big Daddy Kane's book and return to rock the mic a little longer.