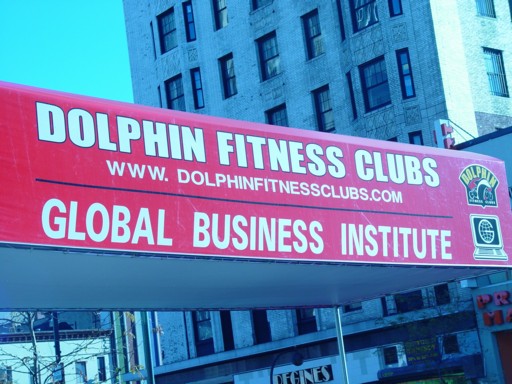 A couple of weeks ago I went out to check out two major Harlem sports clubs. The Dolphin Fitness Club and The New York City Sports Club. I did a little research and this what I came up with…

When I entered the Dolphin Fitness Club on West 125th St. (or should I say the building it was in) I was a little upset at all the stairs I had to climb. It's like they wanted you to start your workout before you even get there. I walked in and saw the manager. He looked at me and said, "Oh, that was today? I completely forgot". Which is funny 'cause he was obviously dressed up for it.
I looked around and thought 'Wow…not too shabby!'. The equipment looked brand new, it wasn't packed too closely together and the music seemed to keep the people working out
busily. The manager, Kenny Kid, let us have a look around before we sat down.
Kenny Kid , who is 44 years old and has been manager for 6 months, told us, "My father started me at a young age. A lot of people spend money on material things. This [Dolphin Fitness Club] is money well spent." The monthly rate is $35, the yearly rate is regularly $349. Taja El'Amia ,26, has been going there for two months and she said, "It's actually a really great gym. They provide a personal trainer free. They explain every machine and stick around until you can handle them." She told us that if anyone would know about how good the machines were, it would be one of the guys behind us. So our next questions went out to Courtney Fagen Lennox,22 years old ,who made it very c
lear that he used to be built like Mike Tyson. He said, "I wanted to get back in shape. I come every day before work and sometimes after. I love it here." Tyson couldn't have said it better himself.

The Dolphin fitness Club provides FREE personal trainers, which sets them apart from most other health club in the city. Their agenda includes aerobic classes, yoga, sculpture kick (karate & aerobics), beginning and advanced step classes. The women to men ratio for these classes are 50/50.The most common ages are 25-38 which brings us to our next concern…childcare. It includes chances to participate in their parents' aerobic classes and is available seven days a week ,but what really raised my eyebrow was the fact that they had math and reading classes. That to me seemed to be a quality hard to find in health clubs. Its 36 locations offer free guest passes which give people two or three trial days.

The next place I went to was the New York Sports Club (NYSP) on West 125th. I talked the General Manager, Robert Mayo. He's been with this NYSP since it opened up in 2000.The woman/man ratio is 40/60. According to Mayo he was trying to develop a "New Harlem", which is more like the Upper West Side. It's for all types and it's not just another black health club." As I started
to look for some members to talk to the manager said that he would find us some people to talk to…and he did. So the rest of the people we talked to were in his office while we talked to them. Keep that in mind. Alyssa Bresnahan, 35, goes to NYSC 6 days a week. She said," It doesn't have a lot of ego. I love it here." J.C. Cruz,39, is a personal trainer at NYSC. He tells us, "I was a two time golden-glove champ. I've been boxing for twenty-two years." NYSC offers one free session with the personal trainers but the rest is paid for. Don't worry though, J.C. says, "If they don't have any money for a session, I'll still give them one for free." The membership is a whopping $792 a year although they have a monthly membership plan.

So in conclusion I would like to say, if you have as little money as I do, buy one of those ab-tronic things and stay home…watch some Simpsons. Just Kidding.