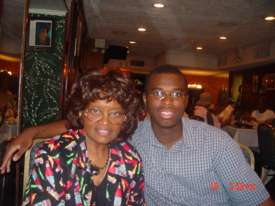 Sylvia's Restaurant of Harlem, located at 328 Lenox Avenue, New York, NY is owned by The Woods Family which consists of her late husband Herbert and Sylvia Woods, their four children, Van, Bedelia, Kenneth, Crizette and a third generation of grandchildren. Sylvia's Restaurant, the world famous African-American owned business was originally established in 1962 with a seating capacity of 35 people. Today, Sylvia's occupies most of a city block with a seating capacity of 450 people. Although Sylvia's Restaurant opened with only $18,000 it has grown to a million dollar landmark. "Hard work, smart work and blessings has brought the restaurant where it is now," says the family.

Sylvia Woods started as a waitress in 1955 in this same restaurant at what was called Johnsons Luncheonette. In 1962 the owners sold her the because they thought she had the potential to manage the business. Ms. Woods' mother had to mortgage the family farm in Hemingway, S.C., to make it happen, naturally they didn't want to lose the farm but her mother had faith in her.

The family continues to have faith in the business. Sylvia's Restaurant is family owned and is staying that way. Bedelia manages the restaurant catering and banquet facilities, Kenneth is Director of Operations, while Van has speared headed the aggressive expansion of the business.

Since the start of the restaurant there have been many sub divisions to the enterprise. There is the cookbooks, the beauty products, food products and of course new Franchises in Atlanta and in New York's John F. Kennedy International Airport. Recently I spoke to Sylvia
and Van Woods ant they told me a bit about the expansion of the business. "We started the cookbook because a lot of people ask, "How do you fix this," and "How do you make that," they always want to know more about the Southern style of cooking so we put it together in a book. We met a good literary agent and it was perfect from there." Sylvia's has two cookbooks published by William Morrow Company, Sylvia's Soul Food Cookbook, published in 1992 and Sylvia's Family Soul Food Cookbook, published 1999. "We started the food products in the early 90's. You have Aunt Jemima ad Uncle Ben on products that aren't even African American owned so we felt we have to have African American faces on African American products. We have Beauty and Skin care products which have been African-American owned since the days of Madame C. J. Walker but, black folks have since lost, that's why we decided to get involved with that." Sylvia's beauty products consist of two brands, Sylvia's Beauty & Skin Care Products; hair and skin products, and African Vision Products; hair and skin products with shea butter and black soap.

Also part of the family enterprise are Dr. Woods products, Sylvia's products and soon to be included Sylvia's Ice Tea, lemonade and even seafood and frozen food. They intend on increasing their food products and coming out with another cookbook really soon. Look out for the life story of Sylvia Woods.
"We will continue to be the best we can be to keep the people coming, keep them happy and give others hope that it can be done," Sylvia told us. The next Franchise should be in Jacksonville, Florida.

Sylvia's Restaurant has been around for 42 years. The lists of people who have stopped by to get a bite include Nelson Mandela, Bill Clinton, Mayor Bloomberg, Governor Pataki and of course regular everyday people. Sylvia's Restaurant is featured in almost every conversation about Harlem and the restaurant has been featured in the new book "The Spirit of Harlem."

If your opening a business the best advice you can get is from Ms. Woods. She simply breaks it down, "make sure it's something you enjoy doing, if you have to deal with the public make sure you love people. Through the years I've seen people in business who seem like they don't like people or get an attitude when people come in, but you really have to love people to deal with people and I Love People."

The Woods family secret to success is even more simple, "Love, Family and hard Work; Love of Family, Love of Friends, Customers and Love of Work."