James De La Vega, an Artist From El Barrio
By Alejandro Ponce
James De La Vega paints mostly in El Barrio (a.k.a. Spanish Harlem), although he does paint all over Manhattan.

"Most of the time (outside El Barrio) I travel to different 
schools thoughout the state. Recently, I visited to Syracuse College. 
I spoke to students about my art work." De La Vega was a teacher 
for four years at Central Park East 
Secondary School in El Barrio.

"It was a tough four years," he said. He left teaching because "emotionally it took a lot out of me. I couldn't work. I took a big gamble leaving teaching. Like anything, you've got to keep pushing, you've got to believe because no one is going to believe for you." At one time James De La Vega painted murals on his own.
Today the price for one of his murals is $1000.00. He has received a commission from Hope Community to paint murals on building walls in Spanish Harlem. His work was on exhibit at The Caribbean Cultural Center on West 57th Street in Manhattan.
James lives in El Barrio and you can find his murals, paintings and writings are all over El Barrio. He paints and writes sayings on the sidewalks. De La Vega explained, "I want to make the neighborhood more cohesive." On East 105th Street you can still see his painting of "The Last Supper" done with skeletons. He wrote under it "No había cena. " (There was no supper.) He began doing murals of India, a musician when he was teaching at Central Park East Secondary School. De La Vega taught Puerto Rican history there and he realized students didn't know anything about their history. "I started to paint mexican people. There are different layers to what I'm doing - there's my work, improving the neighborhood, and making El Barrio a place where you can learn about different people. It's been six years now since I began doing street stuff."
James plays basketball as a hobby, but mostly he paints all day, sometimes fifteen hours a day. Sometimes he doesn't like it when he has a bad day. For him it's a job.
James told me how he came up with the name of his studio, The Fish Tank. His studio is a very small store front on East 103rd Street. "It comes from when I was teacher and I worked on the ground floor gym. You could see down into it like a fish tank. People would look down at you. Here people look at you. I'm like a fish and they're like fish too, because I get to look at them. "
James De La Vega is inspired trying to express what he sees in the neighborhood. Mostly, there are mexican people coming here and when he started his murals he wanted to welcome them. He also wants to welcome all groups of people to El Barrio.Photographer-Lenin Hércules, Cameraman -Jason Rodríguez
I met James De La Vega when I was leaving Central Park with my friend Jason. James De La Vega was painting on a sidewalk in Central Park. He painted a hand holding two roses for his girlfriend who was with him. He signed De La Vega at the bottom of his painting. I saw the name and I asked him who he was. He said "James De La Vega." I asked, "Who is James De La Vega?" He explained to Jason and I that he was a young painter from El Barrio and he gave me his card.

The next day I called his studio and I left him a message because he wasn't there. At eight o'clock the same day De La Vega called me back. He told me that he would give me an appointment to interview him. The next day my teacher and two other students went with me to interview him.

Once we were there, we were very impressed with the technique that he uses to paint. I was impressed with his ability to paint so quickly. He is so young that I was not expecting him to be that good. He has a good reputation with the community in El Barrio. I feel that El Barrio is very lucky to have someone like James De La Vega.

To contact James De La Vega,please call 212.876.8649 or visit his gallery at 1651 Lexington Avenue @ E. 104th Street.
---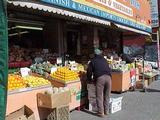 El Barrio Homepage