Strivers Row is a very important part of African American history because this location is the strivers,", or the people with ambitions have always lived. Its residents have included the performers Eubie Blake, Fletcher Henderson and Vertner Tandy, as well as, many other African American who have excelled in Law, Dentistry, and the Arts. The two rows of 1890šs brownstones on 138th street and 139th street in Harlem were originally built for middle class black families, but in the 1920s and 1930s, they started attracting wealthy and influential African Americans. Today, renovated Georgian style homes go for half a million to 700,000 dollars. Strivers row is also very important street because the first African American, architect David H. King who built Madison Square Garden, and the base of the Statue of Liberty, also built them. The Row houses on these two blocks reflect the architecture of the period. The northern part of 139th street group expresses the neo-Italian style of McKim, Mead and White an architecture firm that dominated New York at the turn of the 19th century. Other designers that contributed to the building of Strivers Row are James Brown, Bruce Price, and Clarence S. Luce.
As my photographer and I entered the 138th street entrance of Strivers Row we were both light awestruck. The street was very quiet and covered with dense patches of trees. We came across a very expensive Lexus and several Mercedes Benzes. As my photographer and I expolored the block we came across a very interseting man Named O'Reily Curtis.
Name: O'Reily Curtis

Occupation: retired
Age: 63
Residence: 20 year resident Strivers Row, Harlem
What sort of changes has Strivers Row gone through within the past 20 years of living here?A whole lot. You can name it from A to Z. Outsiders moving in, buying and selling of homes. A town house down the street recently went for almost a half a million.
How do you feel about these outsiders moving in? It doesn't really matter to me, but these people are renovating the inside of the homes and are completely destroying the originality of the building, because they cant touch the outside because its considered a historical street from w 138th street to 143 street.
Do you know any history of Strivers Row?Not really, but Scott Joplin an entertainer used to live here, and one point there were sevaral doctors living in here.
Do you know where the name Strivers Row came from? In the 1930s, when blacks were up[ and coming and began to move in. They were doctors and lawyers, and at one point, the block was full of professional blacks.
Do you know how much the brownstones go for now? Yes, some of the newly renovated homes can go for a half a million to 700,000 dollars.
Leaving O'Reily we walked toward the other end of the block and found De Spa, a beauty salon owned by a mother and daughter team, housed in a quiet and comfortable brownstone on Strivers Row. Wilimina Frazier a retired social worker, owned a Brownstone down the street and happen to win the lottery for rehabilitated homes in Strivers Row. " I guess I'am lucky thats all. i met the requirments for the lottery and here I'am."
Name Ms Ferminster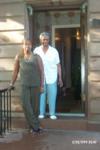 Age 62
Occupation: retired
Residnece 30 year resident of Strivers Row Harlem
How do you feel about your neighborhood and neighbors in general?The block is very quiet and the neighbors are very nice. A lot has change since the last 30 years, but it's really all the outsiders moving in and out.
How do you feel about the outsiders moving in?I wish the neighborhood would stay black because it has a lot of black history behind it but the new people dont bother me much.
Do you know any history behind Strivers Row?
Not that much, I remember a while ago Hassle Scott the pianist used to live across the street from me she was the wife of A Philip Randolph, but many black professionals also live in this block.
Strivers Row's residents aren't just doctors,entertainers, and lawyers. While walking down the shady street of 139th, my photographer and I came across a Surpreme Court Justice of New York State. All types of people live in Strivers Row and it show s how diversified Harlem is becoming. Even when you walk by the entrance of the homeowners parking lot you can still see a sign of Strivers Row unchanging appreance, that reads "Private road please walk your horses". This goes to show you, even when the whole world changes, some special things don't. and strivers row is definitely special because it gave headway for other Harlem landmarks such as Graham Court, Edgecomb and Sugar Hill.