The face of Harlem, USA is changing rapidly and Sen.Patterson feels that this could have both negative and positive effects. With the emergence of businesses such as Starbucks and the Magic Johnson Multi-Cineplex, property value will increase and so will the cost of living in the area. This may provide problems for those who live here because of the high standard of living. Rising costs may cause many minorities who have lived in the area for years to move, and those of a higher class to take their place. In other words, Harlem will experience gentrification. On the other hand, it could prove to be positive by providing more jobs and small business opportunities in Harlem. There a lot of factors for people to take into consideration as big businesses move into Harlem.

While on the subject of Harlem, the Senator also had a lot to say about the first Million Youth March. He believes that in America everyone has a right to say what he or she wants as long as it is done peacefully. This even includes Khalid Muhammad, the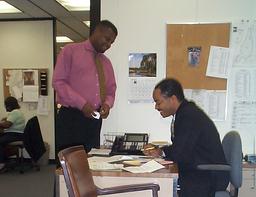 man who led the march. Sen. Patterson understands the need for strong voices, such as Khalid's, but also sarcastically says "how nice of him to tell the youth to disconnect the metal barriers to beat the police if they attack ". He went on to say "while the drama broke out, Khalid was riding away in a limousine like a PUNK". Sen. Patterson made it clear that he felt that Mayor Gulianni was looking for trouble during the march and the outcome was, in part, on his behalf. Having helicopters swoop down on a large crowed would naturally cause people to become frantic. Fortunately, no one was hurt that day and there was only a brief episode of violence that broke out after police officers moved in to rush people home from the event. Many blame the mayor for provoking this violence.

Sen. Patterson even had a lot to say about the recent Elian Gonzales Incident. "The United States is looking for a fight," says Sen. Patterson. On television, Elian has admitted to wanting to stay in the United States but the Senator makes a strong point by saying, "I would want to stay too if I was going to Disney Land every day." Sen. Patterson feels that the United States constantly advocates for families to stay together so why not give the kid back to his father. "That's (Cuba) his home and that his father".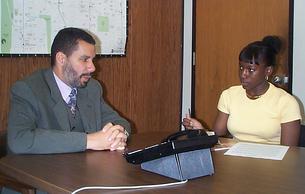 After speaking for some time with the Senator, I began to see he is a person who speaks the lyrics that we all feel in our hearts. People make decisions everyday. Understanding politics and the world around you is a very important for making good decision. It's clear that Sen. Patterson has a wide perspective of the world and this helps him to make his decisions. The youth of Harlem could learn a lot from him.