The National Coalition Against Censorship Gala (NCAC) took place November 7th . Held at the Rubin Museum of Art, (150 West 17 th Street at Seventh Avenue) the Gala honored The Drawing Center, Phil D. Harvey, and Chris Crutcher. Three student film makers were also held in high esteem that night for their shorts on the NCAC's 2005 Teen Film Contest question "Does Free Speech Matter?"
Catherine de Zeger, the Executive Director of The Drawing Center, wept as she accepted an award on the center's behalf, for its principled stance in support of artistic freedom. NCAC Chair Chris Finan acknowledged Phil D. Harvey, President of DKT International, for challenging government speech requirements for family planning and AIDS prevention programs in developing countries. According to DKT International's Website, DKT International is a Washington D.C. based charitable organization that implements nine social marketing programs in nine countries . Chris Crutcher received his award from Judy Blume, a famous children's book author and board member of the NCAC; for his authentic novels for young adults and his outspoken defense of the "freedom to read". All of the awardees received a exclusive portrait.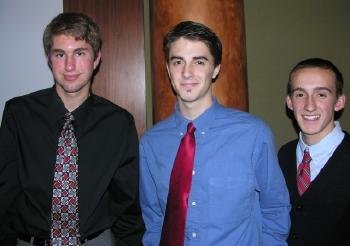 So how did the young stars of the night get into the equation? The three young finalists, Cameron Loftus, 17, Robert J. Hornung, 18, and Riley Harmon, 18, all mentioned that they'd heard about the teen film contest through Fastweb.com, a tool many students use to find scholarships, internships, and college information.
Loftus, of Canton, Michigan, won third place, for an experimental film titled Freedom in a Word, in a Line, in a Poem for America . His film used sections of Allen Ginsberg's poem Howl, written on body parts to answer the question "Does Free Speech Matter?" "I really like it [making the film] because it was my first time doing it," Loftus said. He took home $250, a trophy, a gift bag, and memories from his free trip to New York City. "Walking around Washington Square was my favorite part," he said.
Hornung's film, a clay animation called Today, earned him the 2nd place prize. Composed of pictures, Robert's film showed an individual whose free speech was controlled by a fascist society, who gets exposed to something different (possibly American Society), which prompts him to leave. Hornung took $500, a trophy, a gift bag, and his love for NYC back to Cupertino, California. Regarding his free trip to NYC, he said, "I love the city a lot. It's just a great place and I wish I had more time to spend here."
Harmon, the 1 st place winner, called his experimental film Carbon Nation . He summarized his film as, "a classroom full of clones trying to break free from a conforming teacher." Harmon, a semi-finalist from last year's competition, took home $1000, a trophy, a gift bag, and of course a good time during his free trip to New York City.
The boys received their awards at the end of the night from Shelley Rubin, one of the founders of the Rubin Museum of Art.
The theme of the night was: Free Speech matters. It matters because we take the time to honor the people who take the time to let us know it does, young and old alike.