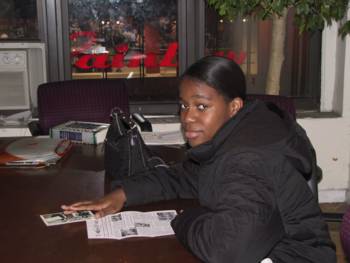 Well, hello there! Thanks so much for taking the time to get to know a little bit about me. My name is Tracey Alexandra Casseus and I was born on November 30, 1988 in Maryland. I moved to Brooklyn, New York in 2003.
I joined HarlemLive in October 2004 and ever since then my life has changed so much. I am currently serving as the Health Editor for HarlemLive and also as reporter. I also direct HarlemLive's TV magazine, HarlemLive Speaks.
I'm your average teenage girl. When I'm not doing anything you can find me at home chilling on the computer or with my moms and my three little ones (Siblings! I do not have kids!) my sister Nicolette (4), Nya (2), and my brother Nicholas (1). While I'm not at HarelmLive I do the school thing and chill with my friends. This year I'm a senior, and love it. I am working hard on my AP classes and my journalism CollegeNow class. I am also the Editor-in-chief of my high school newspaper, The Murrow Network, so I'm a pretty busy person.
I got some high goals in life and I'm just doing what I got to do to make it happen (like becoming a professional journalist if you didn't get the hints). After high school I want to go to college and double major in history and journalism. After college I would like to write for a newspaper and slowly but surely work my way up the success later in journalism and maybe even explore the variety of options in mass media and dabble in broadcast journalism, online journalism, and maybe even magazine journalism.
I have always been a writer and a big goal I have in life is to write a novel one day.