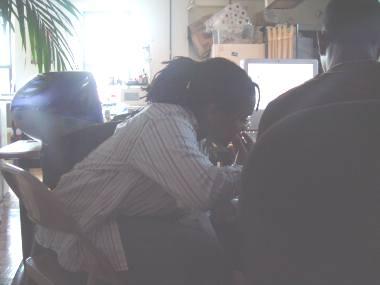 Hey what's up with all you out there reading this. My Name's Seshat mack, and I'm pretty new to Harlemlive as of june 2006. I'm 14 years old . . . .. um, I'm gonna be a junior at Manhattan center for science and math in the fall. I do like to write, my favorite thing being editorials because that's where I get to make a thesis on a current issue and defend it.... I love to talk and debate, especially over issues that actually matter.
When I'm not being censored by my school for "unsuitable content" (when did it become unsuitable to question a certain teacher's teaching habits?), I'm reading, listening to music, playing
music . . .etc. I don't watch a lot of television, and I'm not overly fond of rap. I like rock, jazz, soundtrack music, alternative, adult alternative , and reggae.
I like to read a lot, especially old stuff.....if you haven't already, you should try all that old literature, jane austen and charlotte bronte aren't as stuffy as you think they are.....can't knock it till you've tried it. I'm pretty sure you get the gist by now.
I'm a little ....different but I like to think I'm pretty friendly and I don't bite.....unless you make me mad. If you don't like me, then don't talk to me (and quit reading my profile!) and then we'll get along just fine, don't you think??