---
Angel Colon
Reporter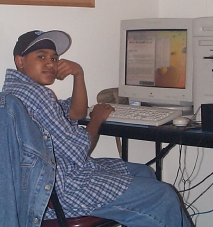 My name is Angel Colon. I was born September 17, 1983. I live in East Harlem. I attend Manhattan Center for Math and Science. It's one of the top High Schools in New York City.
I like working with HarlemLive because there are a lot of good things that happen around Harlem that people should know about.I love computers and almost every sport. I hope to pursue a career in acting.
Well, after being a part of Harlemlive for three years, I've seen lots of change; dealing with new people, staff, and parents. I think I've made a huge difference being a part of my new family, and they know it too. Right now, I have done lots of stories and most of them are with different people. Those people have shown me ways I can put a story together just by the way I feel.
If you'd like to email me, I can be reached at reconize@rocketmail.com or acolon@harlemlive.org
|| Home Page | Welcome | Staff | Contents ||
©1999 by Angel Colon


harlemlive@aol.com