|| Home Page | Welcome | Staff | Contents ||
---
DeVan L. Hankerson
Staff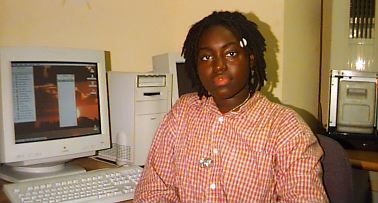 Hello, I am DeVan LaFawn Hankerson and I live in Brooklyn, New York. I was born in Sumter S.C and I am an Aquarius. I am a junior at Central Park East Secondary School, and I enjoy reading, writing and science, specifically genetics. I enjoy school and I take my education very seriously. I have a thirst for knowledge and I quench it by reading constantly. Generally most topics are interesting to me. If I come across a subject in which I am not immediately interested, I try to find books that present the topic in a different way.
My career goal is to become a genetic engineer and one of my long term goals is to write an autobiography. My favorite color is purple and I currently live with my cousins, Shelia and Arthur. I am a student in Mt.Sinaišs SETH program, and a fellow in the International Youth Leadership Institute. Even though my career goal is in the science field, my strengths are in writing and reading. I plan to take advantage of my natural abilities (strengths) to make myself a better scientist. Secondary interests of mine are Pyschology and Philosophy.
Three words that describe me; ambitious, focused, and determined. I love rainy days and cold weather. Getting dressed for the winter and the rain is always fun. My favorite foods are franks and vegertarian beans. I am allergic to jello, and marshmellows and prunes. My favorite singer is Anita Baker, and I have all of her albums. My favorite celebritry is Mariah Carey, I have all of her albums. My favorite movie is Mary Poppins and I really appreciate Julie Andrews acting style. Of all actresses my favorite is Demi Moore. I make an extra effort to see her movies. Her best movie was Ghost.
I do not like drugs or alcohol and it is important to me to stay as far away from them as possible, and I donšt like unjustified violence. I have major energy to better myself and right now that is the main focus of my life. The purpose of this profile is to let you (the reader) know about me but I am so much more complicated than these few lines could ever communicate. If you have questions for me or would like to know more about my involvement in HarlemLive please email me:
dhankerson@harlemlive.org or
DV Purple@aol.com
89 Bulc!!
(Hear DeVan shout out)
---
||
Home Page
|
Welcome
|
Staff
|
Contents
||