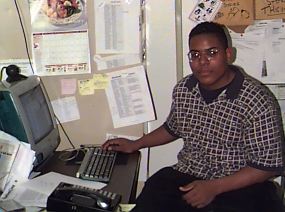 Hello, my name is Edward Diego. I was born in Brooklyn, NY on August 20, 1980. I'm a Leo and loving it. Right now I live in East Harlem with my Aunt. I have two sisters and one twin brother. My brother is a GED graduate, and my sisters are still in school.
I am an Senior at Urban Peace Academy. In addition, I am going to be the Valedictorian of my graduating class. My goal is to become an Electrical Engineer. All my life I've always thought of becoming an engineer but it wasn't till recently that I've thought of become an Electrical Engineer. To become an Electrical Engineer is a big challenge, but all my life I've been facing challenges. Therefore, I look at challenges has a test to the mind. If your strong you'll proceed, but if your not, you can still proceed. It'll take you a little longer but eventually you will achieve.
Now in my senior year, I am an Intern as a Computer Technician at District Four. I go around to different schools and fixed computer problems. My boss's named is Richard Calton. He is also the Founding Director at HarlemLive. Through him, I've learn the different techniques of the computers and learn about HarlemLive. HarlemLive is a place where kids, teens and adults can developed their writing, social and networking skills. That is why I've joined and recommend it to everybody.
I am honored to be involved with Harlem live as an alumnus. It continues to be a great stepping stone for individuals looking to do amazing things with their lives.
First of all, I want to thank Harlem live for inviting me back a couple of months ago to speak with the current volunteers. I must say that they are full of aspiration for both their personal lives and Harlem live. It reminded me of the aspiration I had when I was a volunteer nearly ten years ago. I remember joining Harlem live as a young boy filled with aspiration to do amazing things for my community and myself.
Since then, I went on to graduate from high school as the Valedictorian of my graduating class in 1999. I further went on to achieve my Bachelors of Science in Electrical Engineering from Syracuse University.
Upon graduating from Syracuse in August of 2003, I took on an adventure as a Project Engineer in Los Angeles where I was responsible for assisting in the construction of the Cedar Sinai North Care Tower. In addition, I served as a youth minister for the Los Angeles Church of Christ. This took place until May of 2005.
Currently, I am living in Southern Maryland where I took on another adventure as an Electronics Engineer for the Department of the Navy. God has blessed with this awesome job that enables me to travel all around the world and gain some valuable experiences. In addition, God has blessed me with the privilege of owning my first house in Lexington Park, MD. Furthermore, every Tuesday night, I have the opportunity to practice my hospitality as I host and lead a small Bible study group.
On February 17, 2006, I picked up the "Enterprise" (local newspaper) and the front page of the community section was titled "Passing it on; New York native aims to share his faith and lessons learned with Bible study group and, eventually, a new church." It is so amazing to see how God continues to use me to impact the lives of many. To get a glimpse of the lessons learned in my life, please visit my website www.eddiego.net and read a draft version of my autobiography.
Although it may seem that all is well in Southern Maryland, I am lacking the most important thing in my life. The Spiritual Support to continue to grow in my relationship with God. Therefore, I am currently looking to move to the big city of Chicago where I can be trained to possibly be in the ministry one day. Until then, I planned on continuing to inspire and impact the lives of those I come in contact with.
Once again I want to thank Harlem live for all their support and efforts. Most importantly, I want to thank Harlem live for continuing to give young individuals the opportunity to exploit their creativity and for stimulating their potential.