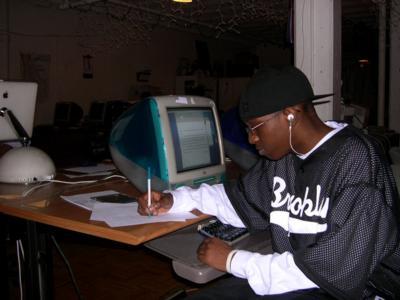 What it do baby? It's the iceman Diamond/I got my mind like myself just shinin'/ Nah, let me stop. It's Diamond B. though from BK reppin' all day till the day, I'm a 17 years young Aquarius tryin' to give all of you sports fanatics the news. I currently attend Canarsie High School in Brooklyn, and cannot wait till I exit the front door through those metal detectors for the last time. In the meantime, I'm trying to achieve my future goal of becoming a sportswriter. At the same time, I don't want to be too bland with my wordplay. I want to present a new flavor and taste to the world of sports reporting, and something that you definitely wouldn't be able to find by reading Mike Lupica, Jay Mariotti, or Woody Paige, who are all great writers. I wanna be mentioned if not with them, then mentioned above them.
My "favorite writers list" stretches from Mike Lupica, sportswriter for the N.Y. Daily News, Jay Mariotti, sportswriter for the Chicago Tribune, Micheal Smith, sportswriter for ESPN.com, to Walter Dean Myers, Charles Barkley, Sistah Soljah(I have only read one of her books and I think that you all know what that is), and myself.
I enjoy reading, but I tend to have a difficult time finding literature that relates to my life. I like to read about real things that people in the ghetto in the hood, such as myself can relate to. Therefore, my library of literature is mostly limited. I love music, and I could live without it, but that would be a real hard life to live. I'm listening to Jay-Z while I'm typing this as a matter of fact. He just so happens to be one of my favorite artists, along with The Notorious B.I.G. of course, Pac of course, Papoose, 50 Cent, Jadakiss, Gravy, and myself. For the girls, R&B sweethearts in my MP3 Player range from Cherrelle, the old school Janet Jackson("Pleasure Principle"), Keyshia Cole, Mary( do I really have to finish her name?), and my fellow Aquarius home girl Alicia Keys.
Besides that, I like to write. I can't say love yet because I have a tendency to fall in love with hobbies quickly and leave them alone just as fast. So, I'm trying to take my passion for this as slowly as possible. Now, one thing I do love without a doubt is sleeping. I can fall out like somebody hit me son for real.
I'm a real laid back dude. I am enjoying the road that Harlemlive has placed me on. Hopefully it will lead me to many more avenues than what Brooklyn has to offer. Look out for my articles on the site!
Chill.