Basketball is a sport that you can play 24/7, as long as you have a hoop and a ball. However, there is something about the NBA that makes flocks of people line up to take a simple free throw in front of an audience. The Yahoo! NBA "Rhythm-and-Rims" tournament at Southstreet Seaport, on July 27, 2002, was a free fundamental fan festival. I arrived just in time to witness a dunking contest.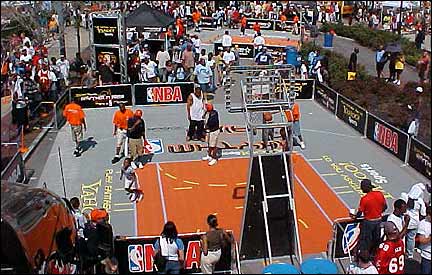 The winner, Richard Alleyne (16) from Long Island, NY is only 5'9'' and explained that he wasn't nervous at all while performing in front of the large crowd and that he had been dunking since the age of 13. Basketball is his first love and, although he doesn't have a basketball team at his school, he made the AAU Riverside basketball team. He received a free pair of Reebox from the dunking contest and a pen holder, a T-shirt, and a Missy Elliot CD from the Free Throw contest he also won.
I entered a fe
w contests, such as the 3-point shooting, free throw, 3-on-3, and "top of the key" contest. I made it to the finals of the "top of the key" contest, which required me to shoot from the top of the key (behind the three point arc directly in front of the basket). There was something for everyone Ð and let me once again emphasize the "free-ness" of this event. Children, as young as three, were participating in contests, although they obviously had no chance of winning. A section was also allotted for people who wanted to "act a fool" and show their dunking abilities.
Obviously still too hyped from my finals appearance in the "top of the key" contest, I decided to do something original. Blindfolded with my headband, I drove with speed and completely missed the basket on my first try. On my second try, I missed the basket, flew behind the neighboring hoop, threw the ball down somewhere, and jammed my finger into something. I am currently wearing a splint on it.
Sammy Gomez (18) from Brooklyn, NY believes that R&R is good because it is "dealing with the community" and keeping people occupied and "off the streets."
Related Links:
Rhythm and Rims Tour Description
Overall, it was an enjoyable event, full of the suspense of an NBA game and gave people the opportunity to show their skills in front of a crowd when they would otherwise never get the chance. It is held every year in New York, although it travels around the US. I suggest any basketball players or fans to check it out when it is in your town. As for now, KEEP PRACTICING!!