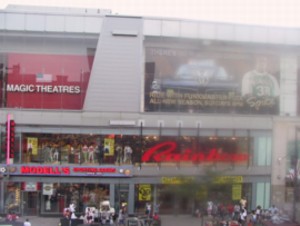 Is the commercialization of an urban neighborhood a threat or an opportunity? Vendors and independent storeowners on 125th street, who have seen the great changes across the commercial strip and can attest to the presence of gentrification, do not all share the same outlook on its presence. The existence of gentrification, however, is not in question. As a mere bystander, I can see how 125th street resembles a carbon copy of the Times Square monopolized sidewalks, with only scintillations of small, black-owned enterprises. Franchises like Old Navy, Rainbow's, and Duane Reade have all carved out
their space in Harlem's commercial center. As a result, small independent establishments have all experienced a wide variety of changes. Monopolization in an urban neighborhood seems to have several effects. It has attracted tourists and more consumers from other areas into the neighborhood, which, to some business owners, stimulates the economy of the area and increases the number of potential consumers for their enterprises as well. However, the monopolies have also managed to take all of the consumers and the commercial resources from the local businesses.

CUT 1: "Number one, it's unfair. They didn't give the people in Harlem ample enough credibility and time to move into that gentrification process for themselves. A lot of information was hidden from them. So they were left with nothing and everyone else is moving in. And it's not fair." Muhammad Shariff, street vendor of body lotion and incense views the monopolization as an unhealthy competitive threat to a healthy and self-sufficient economic base.
However, other business owners, like Joseph Turner, owner of embroidery and imprinting shop, feel confident enough in the community to support and sustain small businesses."

CUT 2: "Basically, in two words, I'd say 'Good Luck.' They're not going to be able to thwart the foothold we have in the community…I'm not saying that they don't have more resources than we have. But I don't intend for us to go under if and when they come here"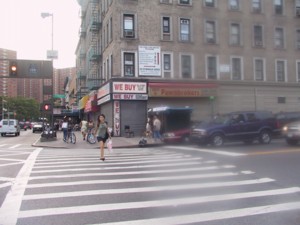 But even in the face of a transitioning neighborhood, the change and transition in the neighborhood can be viewed as an opportunity to increase Harlem's consumer base, trusting that any business, regardless of whether it is a large monopoly or a small independent enterprise, will stimulate and ultimately benefit the Harlem community as a whole. Some say consumerism will ultimately benefit any business in the area.
(Corner of 125th and St. Nicholas)
CUT 3: "I've seen an increase in shoppers. The customers are coming, we're getting more customers."

Some small business owners say they can survive the monopolized competition and thus reap the benefits of increased consumerism. Joseph Turner sees his business as competitive in price while Helen Bartsdale owns a specialty store, providing specific merchandise that would protect her from becoming a competitor with the large franchises that provide a more generalized group of products. However, not all enterprises are able to segregate the health of their business from the influential force of gentrification. And there are other factors that have affected all business indiscriminately.

CUT 4: "But business in general is just slow. There hasn't been much increase in business at this time; since 9/11, things have been down. And also now, they've recently moved the bus stop because they're building an elevator, and that's like a two year thing- it's supposed to be back in 2005. That took a lot of business also. But hopefully, when the bus stop is back, things will sort of level out and it should be good."
Is the monopolization of 125th street really a threat, an opportunity, or a negligible factor in the existence and sustenance of small businesses? There is no simple answer to this perplexing transition in the commercial center of Harlem. There have been a wide variety of effects directly resulting from gentrification, and there have subsequently been a wide variety of responses.
(BTFU Damage)
Information on Small Enterprises on 125th Street:
Joseph Turner
Sigui Imprints and Embroidery
2246 Frederick Douglass
212 222 5500
--------------------------------
Helen E. Pearsall-Barksdale
Gemini II Specialty Boutique
353 W. 125th St (nr. St. Nicholas Ave.)
New York, NY 10027
212 866 7980
--------------------------------
B.T.F.U
DAMAGE
(917) 605-4811