When is unity the theme of an organization it becomes clear that there is no obstacle too big that a little team-work can't handle. This has been proven time and time again but recently when Manhattan East Suite Hotels and New York Cares joined forces with Harlem's own Dr. Vickie Gholson of DEEL Communications Lab to clean up a little garden in Harlem that unity was really displayed.
On Tuesday July 24th all three organizations arrived at 7:00 in the morning on 153rd street between St. Nicholas and Amsterdam wearing their jeans their beige shirts and a smile to match. As they looked around they saw the amount of garbage and dirt that had to be sorted and rolled up their sleeves to work. The sun beamed down upon them in the 90 degree weather and they thought about their motivations for being there.
One Motivation was the fact that they were doing this for the elderly in the community. The other reason was that their bosses the Danahans were passionate people who cared about doing good things for others. The Danahans showed up around 1:00 in the afternoon to help and show their commitment. When five '0 clock had arrive everyone packed up and left knowing that they would have to come back to complete the work they had started. They were glad to get out of the heat and away from the dirt. There was a good ending to the day when a ice cream truck man who already been paid up front stopped by to reward the hard work of everyone.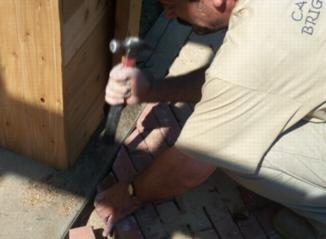 The employees of Manhattan East Suite Hotel were used to this kind of work after being involved in many of these kinds of projects . " We've done work all over this city. This is our second Harlem project and its our biggest one yet. Last year we cleaned up Jackie Robinson Park and that wasn't as hard as this is" says co event director Constantino Sagonos as he was cutting grass. Every month they go out and do work some where. In addition to cleaning up Jackie Robinson park they've help build schools such as PS6 and PS164. "We've done many projects in the past but this one has been the most challenging." said Chris Raija maintenance manager for Manhattan East Suite Hotels.
New York Cares is no stranger to events such as this one either. In fact New York Cares hosts four annual events to help its city out. Events such as Secret Santa, Coat Drive, Spring Clean Up, and School Clean Up. New York Cares has over 10,000 volunteers and its a good thing since they take on 300 different projects every year. "We are all about bettering the city by working together and our bond is that we all want to see New York keep the title of being the best city in the world" says Heather L. Swindler who is the director of corporate relations at New York Cares. She brought 70 of the 160 volunteers along with her from New York Cares. "This is a great experience and it's really great how New York Cares does these kinds of projects this definitely one way to show how much you love your city" . said Jennifer, a intern at New York Cares.
Before this project the garden was called the garbage and it was in great need of renovating. DEEL communication led by Dr. Vickie Gholson is solely responsible for the initiative it to took go and accomplish this mountain of work. Even before Manhattan East Suite Hotels and New York Cares got involved DEEL and the 153rd Street Block Association did the first clean up. It was Dr. Vickie Gholson who got the Parks and Recreation, CB#9, HPB, Dept. of Real Property to assist in the final cleaning up. "It is the best thing to happen to this community and It's going to be a long time before I stop rejoicing about this," said Dr. Vickie Gholson who was there for all the days they cleaned up.
Keeping their promise the group of 160 men came back on Tuesday and Wednesday to finish laying the paths, and to clean up any left over garbage. Over the course of the days things got a little annoying with so much debris all around. " There is so much left-over garbage. I guess other people people tried to do other projects before us," said Mark Tigh construction manager for Manhattan East Suite Hotels. After a days work of brick laying, grass cutting and planting flowers, the two groups had turned a ugly garbage filled space into a beautiful, peaceful garden where young children and elderly can come and enjoy life in quiet. This is a great project for the community of Harlem because Harlem is up and coming and this is the place to be. The Mayor sent along his blessings in a letter from his office. Here is what it said:-
Dear Friends: I wish to send greetings to those attending today's event sponsored by Manhattan East Suite Hotels and New York Cares, This is a special occasion on which you celebrate a park renovation in Sugar Hill, Harlem To all those present for today's festivities, I wish you well as you commemorate this wonderful achievement. Manhattan East Suite Hotels has partnered with New York Cares in Volunteering to clean up New York City parks and communities. Through this program and other initiatives, your efforts contribute to New York renaissance. This project is a terrific example of the public and private sectors working together for an important cause. In addition, I am pleased to acknowledge those associated with Manhattan East Suite Hotels and New York York Cares for making this event a reality. It is a Pleasure to recognize those who are committed to giving back to their city. Please accept my best wishes for an enjoyable event and for continued success in all of your future endeavors.