Today, Central Park is one of the best-known landmarks of New York City. Everyday, hundreds of people flock there to enjoy sports on the Great Lawn, feed ducks at one of its many ponds and indulge in the varieties of entertainment, such Shakespeare in the Park. Over one hundred and seventy years ago Central Park would have been unrecognizable to eyes of New Yorkers. It would have been the community consisting mostly of African Americans called Seneca Village.

Seneca Village was located between what is now 82nd and 89th street, between 7th and 8th avenue. How Seneca Village got its name is not exactly known; however, there are are a number of theories. One theory is that that the word "Seneca" came from the Roman philosopher Lucius Annarus Seneca, whose book was often read by African American activists. Another theory is that the village may have simply been named after a group of Native Americans, "Seneca" Indians. Whatever the reason, Seneca Village was indisputably started after one main historical event: slavery coming to an end in New York State on July 4, 1827. While this event gave African Americans their long-awaited freedom, it also placed them in the worst living conditions in downtown Manhattan. Moving uptown into areas like Seneca Village was a chance for African Americans to get away from the squalid conditions of downtown Manhattan. Moving to an area with lots of open-air and rural qualities was a golden opportunity for them. Seneca Village (and other Uptown Manhattan areas) provided African Americans with their own thriving community between the thirty-year period of 1825 and 1857.

Seneca Village also gave African Americans a chance to own property, property that would have been too expensive downtown. For some African American men buying property meant buying a voice; African American males could only vote if they owned $250 in property. Black men were more likely to have property that was worth $250 if they lived in Seneca Village. Therefore,they were much more likely to have a small say in the government with votes.


African Americans weren't the only ones moving to Seneca village in the early 1800s. The area attracted many other people for different reasons. Seneca Village grew in the 1830's when people from a community called York Hill were forced to move after a government-enforced eviction; the York Hill land was used to build a basin for the ever present Croton Reservoir, a direly needed fresh-water water supply for New York City.

Later on, Seneca Village grew to 264 people. A potato famine in Ireland would make 30 percent of that population European, mostly Irish. Irish immigrants who were getting away from hunger in their own country faced difficulty when they came to the United States. Many Irish immigrants fleeing their country because of famine were not able to rent or buy land from other white people in the United States. This caused some of them to move to Seneca Village and rent or buy land from Black landowners. Seneca Village soon became a place where the majority of African Americans lived fairly peacefully with the minority of Europeans (German and Irish).

There is at least one account of an interracial marriage and African Americans and Europeans worshipped together at one church. The fact that Europeans and African Americans worshipped together was extremely significant because religion was a very important issue in the lives of Seneca Village residents.

In Seneca Village there were two Methodist Churches, The African Methodist Episcopal Zion Church (which is known today as the Mother African American Methodist Episcopal Church) and The African Union Methodist Church. During an age when Black people were referred to by a variety of derogatory names, these two churches brought a sense of pride. The word "African"began to be used instead of "colored" or "Negro" to show pride for a person's African ancestry. These two churches adopted this way of thinking into their names. In the basement of the African Union Methodist Church there was Colored School #3, set up to educate African American students in the area. One important event from the African Methodist Episcopal Zion Church was the newspaper announcement of the laying of its cornerstone. The cornerstone was filled with church description papers, a bible and other documents that represented the church's existence. The third church in Seneca Village, All Angels Church was an Episcopalian church, and as the last church ever built in Seneca Village, it was the largest and held a very mixed population; one third of it was European, mostly German.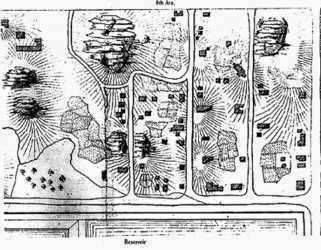 During the time Seneca Village existed, New York City was developed only to 39th Street and was a very crowded place. Many people pressed for an open space to get away from the crowded conditions of their everyday lives. Landscape architects Frederick Olmsted and Calvert Vaux responded to that by coming up with plans to build a major public park. By 1858, the scheme for Central Park, call the Greensward Plan, was completed and it was the beginning of the end for Seneca Village and several other villages in uptown Manhattan. All of the communities in the way were destroyed despite protest and resistance. Villages were demolished through the use of "The Law of Eminent Domain", a 5th Amendment detail allowing the government to take away private property for public use. Over one thousand people who lived in the uptown area were forced to move to make way for Central Park.


Seneca Village has been generally unknown for a couple of reasons. One reason is that the people of Seneca did not leave a lot behind as evidence of their existence and never rebuilt their community elsewhere. Another reason few people know of the Seneca Village is that that people who lived there were poor and therefore less likely to get their story heard. Whatever the reason, Seneca Village still holds a strong significance as the first (or one of the first) African American based communities of New York. That significance has only been recognized in the last few decades with dedications to Seneca Village, and debates over whether or not part of Central Park should be turned into a digging site. Other studies are underway in order to find out more about the people of Seneca Village, who hold such an important, yet little-known place in New York's history.
For more information on Seneca Village Go to:
Seneca Village - History of Seneca Village in New York City in the nineteenth century