Mr. Holder is known for creating, directing and acting in plays which portray the lives of African American legends such as Ethel Waters, Valaida Snow, Zora Neale Hurston, Nelson Mandella, Thelonious Monk, Bud Powell, and Malcolm X. Holder has received reviews from The New York Times, Amsterdam News, Village Voice and more.

His plays can be seen at the Nuyorican Theater and New Federal Theater in Manhattan.

Laurence admits that writing is a form of therapy and it forces him to open his mind and grow as an individual.

As well as being a playwright Mr. Holder is a professor at John Jay College of Criminal Justice where he has taught English for the past 25 years. He lives in west Harlem with his wife and daughter, where he has been for over 10 years. Mr. Holder used to play the saxophone but gave it up to spend more time and energy with his family and writing. He has raised two children and is in the process of raising a third.

Mr. Holder would one day like to move to his home in Barbados. The calming sound of the ocean and the relaxing view from the house is what continues to draws him to Barbados.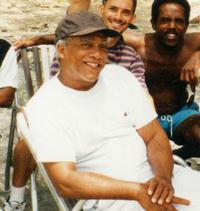 For more information on Laurence Holder go to http://www.laurenceholder.com