At the age of 24, Tyrone Edmond has experienced both pain and loss. Losing his mother at the tender age of nine and later watching his friend lose the battle with AIDS, Tyrone Edmond has undoubtedly lived a full life. But who is Tyrone Edmond? I got the chance to sit down with the Haitian Native and find out just who he is and what he's all about...
Where did you grow up?
I grew up in Haiti and I moved to Miami Florida when I was 15 years old. I love this country man, a lot of great things are here, there are so many opportunities that I wouldn't have in my country. So I'm trying to take the advantage and opportunity of living here and turning it into something positive
What was the neighborhood that you grew up in like in Haiti?
Very poor, my neighborhood had no opportunities. It was hard, and still is, to get any type of education there, you want to go to school but you can't because most of the schools are private, you can't afford that! And there are no real public schools that we could attend. I also lost my mother when I was nine, and that definitely contributed to how hard life was.
Who raised you?
I was raised by an American missionary family when my mother past away.
Do you have any siblings?
I have a little sister, she's a beautiful 15 year old. She attends school in Haiti. She loves it there. She's thinking about attending college here in America but for now she wants to stay there. She's my responsibility, I send her money and such.
What is one of your main motivational tools? Would thinking about your mother be one?

It's one of them. Living life poverty stricken is very tough. I know what its like to wake up in the morning and not have anything to eat, to want to attend school and not be able to is all to familiar to me. I can relate with impoverished kids and I want to help them. So that goal, to help those in need is enough motivation.


Tell me about TyroneTyrone was an African American brother that I met when I first arrived in this country. Initially upon my arrival I didn't know any English, and he was like a big brother to me he sort of took me under his wing. He was hustlin' at the time but he didn't want me to follow him in the "game", so he sort of molded me into who I am today, by keeping me away from such negative devices. He not too long ago passed away from a long bought with AIDS. I miss him dearly. I'm still very cool with his mother and he remains today to be the biggest loss that I've ever had to face.

When you came to America what was your goal? What did you want to achieve?

When I came to America I never thought of becoming a model. I wanted to finish school, finish my biology major. I had attended the University of Miami for a few years. All the things that are happening now I never expected or planned for, that's why I don't take it for granted. There are a lot of things I can do other than modeling I'm not sticking to that alone, I can help kids, create programs, help kids learn more about fashion. Right now my modeling career is allowing me the great opportunity to help others.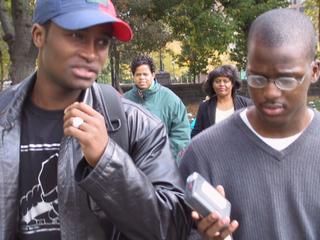 How did you actually get into modeling?

I met Tommy Hilfiger in 1997, he was doing a book signing for his book "All American" in the Union Square Barnes and Nobles. I went there to get my copy signed, he looked at me for a bit and told me that I had an "interesting look", he referred me to his brother Andy Hilfiger who was also at the signing and he gave me their card but I was still in school so I didn't pursue it. About two years later I was coaxed by friends to try it out, so I went to a modeling firm called Q Models and every since then things have been "poppin" you know?

You have been compared to the likes of Tyson Beckford, one of the biggest African American model in the industry, how does that feel?

It feels great! But I've been compared too a lot of people, like Taye Diggs even Usher. People have different opinions you know? But Tyson Beckford to me is like one of the greatest African American male models out there now, I feel that he has opened the door for a lot of the black males in the industry now. Because there was a time when they would never look to us for beauty and fashion so I believe that Tyson definitely paved the way.