---
African American Day Parade
By Angel and Daniel Colon
We captured the sound of the Yoruba Nation of North American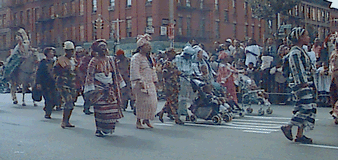 Horns, cheers, and excitement.
That's what you would have seen and heard at the annual African Day Parade in Harlem, September 15th.
Politicians such as Charles Rangel lead the parade which lasted several hours on a beautifuly sunny Sunday afternoon. The most energized moment of the parade was when superstar athlete Mike Tyson drove by in a BMW with motorcyled police, body guards and foot police protecting him.
A lot of people showed up but the crowed booed the fire department after all the noise was made by fire trucks. One lady was very upset about the trucks and cars that were making too much noise.
Once the parade passed on, the crowed was bored with the little children dancing but once the Hot 97 Float came up everyone went CRAZY. People were in the street following the float and no one could move. With superstar rapper Case on the float, it was nuts. People were "killing" for autographs.
After the Hot 97 float passed by the streets were empty and clear so the parade was forgotten, people were not found because of the crowd that followed the Hot 97 crew.
A lot of people were mad about all the noise and "wack" dances, but I can say the parade was an O.K.
View the Slideshow