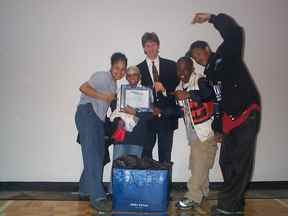 "One Of Our Own"
Harlemlive's own Richard Calton recently received Honorable Mention at the 2000 Sony Wonder High Tech Leaders Awards. He was recognized for his hard work and commitment to the youth of Harlem and students at HarlemLive. He was one of three high tech leaders who was awarded that afternoon. Bruce McComb was the big winner of the day coming away with the High Tech Leader of the Year Award, Philemina Ejiogu also received honorable mention.
A couple of kids were honored for their contributions to the technology world. Ryan J. McDonald ,17 founded Kids-Bridge, an organization that puts technology to work for hospitalized children by creating an online kids-helping-kids technology network . Ten year old, Ben Behrenfeld was awarded honorable mention for his many ideas about interactive and portable technologies of the future, using his knowledge of technology to help fellow students and his teachers.
Darren Herman also seventeen received honorable mention for starting
his business, Computer Services a web design and computer graphic arts company. It was a day of excitement and joy as the winners, the Sony execs and their friends came to celebrate their great achievements of the future leaders in technology.