Julie Fenton Young Designs

Fenton has been working on her talent shows and rock jewelry designs for 30 years. Her job before designing jewelery was owner of a mortgage company and she said it was going well. As a child, she spent all her time collecting rocks, an impetus for her later interest in rocks and jems. Once upon a time, rock collecting was merely a hobby to Ms. Fenton; now, she finds it necessary to invest all of her time in her creations.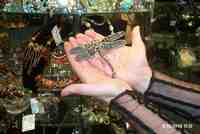 Fenton completes 1,200 pieces of jewelry each year. The average piece takes about one or two hours to make, but the Dragon Fly shown took a total of eight hours. Originally from Partlin, Oregon, Fenton has only been in Manhattan for three months but says that business has been going very well. Julie Fenton Young designs price from $45 to $150.
Says Fenton, "Work is work, but if you have a passion [for it], it carries you through."

---
Once In A Blue Moon
These box bags have had nothing short of success. Together, married couple Sheila Holley and William Vablais design these accessories which have taken the nation by storm. Each accessory has a cause. For every "Peace" bag purchased, 20% of the profit is sent to a September 11th foundation of the customers choice. Each one is different; each one is beautiful. Prices range from $150- $225. You may check out boxbags online by going to, http://www.boxbags.com.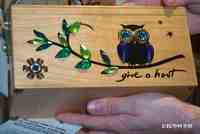 ---

Crossing Styles: Romina Abal

If you want beautiful, hand made clothes that are so unqiue you won't see anyone else wearing them, then you want a piece of Crossing Styles. Every single piece of clothing that we saw expressed only individuality and essence. We talked to Romina Abal who is a Crossing Styles representative. She told us about Crossing Styles plans for the year which are to find small clothing corporations in other countries and continents such as Africa and Latin America. Prices range from about $50 to $200.
---

Palm Beach Accessories
Father and son have gotten together to design fancy eye wear, mirrors and bags. They have been in this business for over 15 years. All of their products are made overseas. They have glasses with matching cases and bags. Their prices run from about $5 to $50.
http://www.speet.com
---

Oui Bee Art: Dennis Pederson
Pederson was inspired to make his weird and unusual watches when he saw teens choosing covers for their cell phones. He wished that watches could be just as fun as other accessories. Since January Pederson has been running his own watch business. He started it all in Littleton, Colorado. His watches come in weird shapes such as guitars, cones and they come in wild patterns like tigers, pandas and elephants.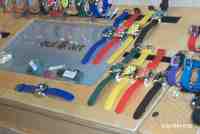 ---

High Heeled Handbags: Shoshanna Smith
Smith began her high heeled designs because she was in love with stilettos but after an injury she could no longer wear them on her feet. Instead she wears them on her shoulder. These High heeled bags run from about $90-$285. This was her second show. Her first was in January and since them she is very well known and has been featured in three talk shows: Ananda Lewis, Gena Live and Dorothy Dun. High Heeled Handbags are a hit and Shoshanna Smiths merchandise is featured in 32 stores nation wide.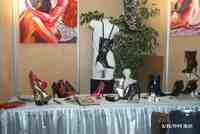 ---

Baby Phat Jewelry
Did you know Baby Phat did Jewelry? We didn't, but were very pleasantly surprised by what we saw. Come to find out that Russel Simons wife, Kimora Lee Simmons is the main designer of Baby Phat Jewelry, which was introduced to the world in January. You can find all this jewelry and more at Dr. Jays, Epic, BabyPhat.com and Mony. Prices range between $5-$55.
---