On Febuary 17, 2001, a powerful force and voice of a people passed on. Khalid Abdul Muhammad was pronounced dead at the age of 53 in an Atlanta, Georgia hospital after suffering a massive aneurysm.
Mr. Muhammad was the national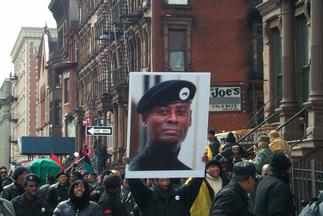 chairman of the new Black Panther Party for Self Defense, a position many said suited him perfectly, as he was often described as a well-educated and powerful speaker and leader. Many of Mr. Muhammad's antagonists, including Louis Farrakan, his former mentor, saw him as a man who insulted people and didn't care about anyone else's opinion but his own. Many also considered him a racist who railed against whites, Jews, Catholics and certain black civil rights leaders. Although many people disagreed with his positions, others could see that he was a confident, intelligent, determined leader and respected him for standing his ground. For example, in 1998 he fought for the Million Youth March in Harlem to continue when Mayor Rudolph Giuliani opposed it. Thanks to his lawyers, Mr. Muhammad and the March proceeded. By some accounts the March was a huge success, although it ended with confrontations between the rally's participants and the New York City Police Department.
After losing a leader like Mr. Muhammed, one would think that there would be spirit of sadness and grief. Yet there was only a small hint of that when it came time for his memorial service on February 24 in Harlem, at Mt. Olivet Baptist Church, 120th Street and Malcolm X Boulevard.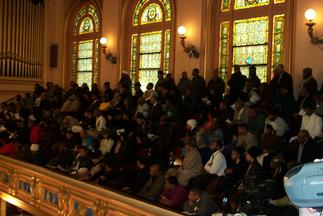 Over five hundred people, including fifty-five members of the New Black Panther party, attended the service to pay their respects; as they settled into their seats, there wasn't any crying or grief on their faces, only smiles and looks of deep thought. Anyone who entered the room could see that this was going to be a celebration honoring Khalid Abdul Muhammad's life. Singers and African drummers did their best to feed the positive spirit in the air.
Speakers readied their speeches and poems to contribute to the mood. Although everyone was there to celebrate Khalid's life, feelings of hope, anger, and passion ignited every time a speaker got up to address the service. Among the many speakers were the Rev. Al Sharpton, Minister Michael Muhammad, Dr. Ben Johannon, Warrior Woman, Willie Ricks, Moses Powell Herman Ferguson and others. Every one of the speakers had the ability to move the people; nobody was disappoint
ed.
Warrior Woman shouted, "They can kill our leader, but never the revolution. Keep going no matter what!" Willie Ricks, a long-time leader in the New Black Panther movement, called for an awakenig of black people, saying: "Tear down imperialism, build organizations, set up rallies‹do your part in the fight for the equality we deserve."
Video highlights of Mr. Muhammad were shown after the speeches. The clips showed how, no matter who interviewed him, Mr. Muhammad always managed to make his point clearly and peopled listened when he spoke.
Outside the service, people spoke of Mr. Muhammad's specific characteristics which inspired them. Twenty-six year-old Germany Matrix said, " I would want to have Mr. Muhammad's boldness, courage, sincerity, and determination and I would do my best to be better than him and continue his legacy."
What can be done to remember Dr. Muhammad's memory? Sixteen-year-old Brooklyn resident Romanza Matrix believes that we must carry out his dream of one day seeing our generation overcome the obstacles the government puts in our way.
Lord Tawfyz and his group Shaka Zulu said, " Growing up, our hero wasn't Michael Jordan running up the court chasing a ball. Mr. Muhammad was our hero. He was one of the super black heroes. We admire him for his courage and the way he told the truth. He taught us not to fear the enemy and that's why he's our hero."
Many people felt this way. As the service ended, the feeling was one of pride and joy. It was not as though something or someone had come to an end, but as though something was beginning and getting stronger.
Khalid Muhammad
www.november.org
www.khalidmuhammad.html